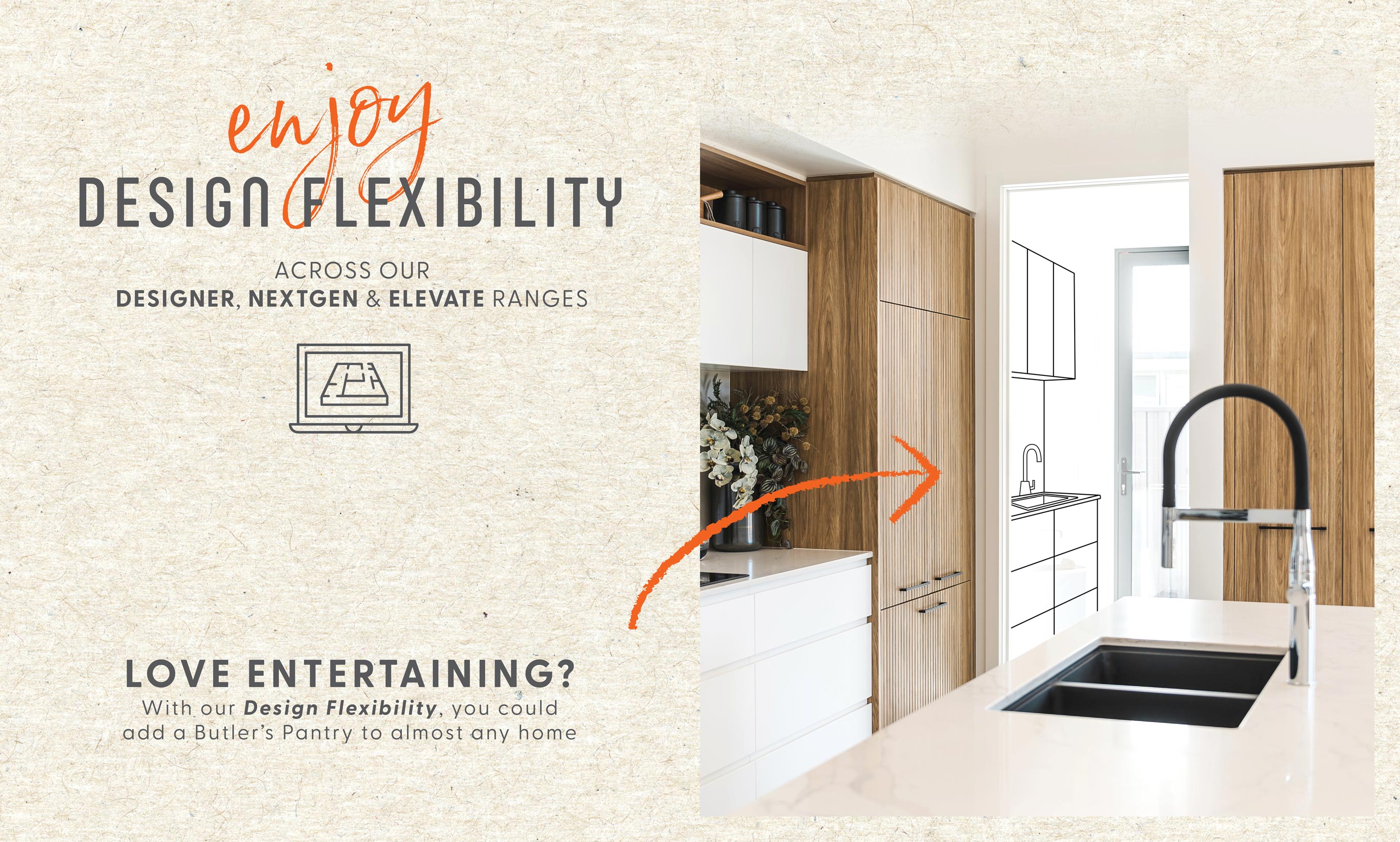 When it comes to building a new home, design flexibility is a crucial aspect that allows Wilson Homes customers to build a custom home design, personalise your space and adapt it to your evolving needs. The ability to make changes, such as adding a butler's pantry to the kitchen, or converting a family room into a spare bedroom, not only enhances functionality but also adds value and transforms a house into your dream home. Explore the benefits and possibilities of design flexibility, and how Wilson Homes can enhance your living experience.
Building a New Home: Tailoring every detail
Design flexibility begins with the opportunity to construct a brand-new home tailored to your preferences. From the layout to the finishing touches, you have the freedom to create a space that reflects your unique lifestyle. Collaborating with design experts, interior designers, and quality builders who understand your vision can help bring your dreams to life.
Adapting the Kitchen: The butler's pantry
The kitchen is often the heart of a home, and its functionality can be enhanced through smart design choices. Adding a butler's pantry to your floorplan creates a separate space adjacent to the kitchen, where you can store and prep items, keeping your main kitchen area clutter-free. This addition provides extra storage, workspace, and even a secondary sink, making it an ideal solution for those who entertaining and organising.
Transforming Rooms: Multipurpose & spare bedrooms
As families grow and lifestyles change, rooms can be transformed to meet evolving needs. A family room, for instance, can be converted into a spare bedroom to accommodate guests or provide additional space for a growing family. By adding a sofa bed, or even built-in bunk beds, you can optimise space without compromising on comfort or style.
Home Office or Study Nooks: Embracing remote work
The rise of remote work has highlighted the importance of dedicated home office spaces or study nooks. Incorporating flexible design elements, such as built-in desks, shelves, and storage solutions, allows you to seamlessly integrate workspaces into your home without sacrificing aesthetic appeal. Consider strategic placement near natural light sources to create an inspiring and productive environment.
Outdoor Living: Expanding your horizons
Design flexibility extends beyond the confines of your home's interior. Creating versatile outdoor spaces, such as patios, decks, or pergolas, enables you to extend your living area and entertain guests. By incorporating features like outdoor kitchens, fire pits, or seating areas, you can customise your outdoor space to suit your preferences and accommodate various activities year-round.
Future-Proofing: Designing for change
Design flexibility is not just about addressing your current needs; it also involves anticipating future requirements. Incorporating adaptable design elements, such as wide doorways and hallways for accessibility, pre-wiring for technology advancements, and flexible room layouts, ensures your home can adapt to different stages of life. This approach saves time and money on future renovations, allowing your home to grow and evolve alongside your family.
Design flexibility empowers you to turn your vision of a dream home into a reality when building with Wilson Homes. The ability to adapt and customise your floorplan to suit your needs is invaluable. From adding a butler's pantry to transforming rooms for different purposes, the possibilities are endless. By working closely with your Wilson Homes Building & Design Consultant who understands your goals, you can achieve a living space that is not only functional, but also reflects your personality and enhances your quality of life. Embrace the power of design flexibility and create a home that perfectly aligns with your ever-changing lifestyle.