Spring Styling For Your Alfresco & Outdoor Living Spaces
Spring has sprung here in Tassie and before we know it summer will be here, and the entertaining and holiday season will be in full swing!
Spring Styling Tips For your Alfresco & Outdoor Living Spaces
A new season is always a great reason to refresh your home, creating or transforming spaces that are underused or neglected into wonderful spaces you love to enjoy. The alfresco is a wonderful space in the home where you can relax, entertain and enjoy all year round with the right consideration.
So, let's take to look at the top 5 styling tips for alfresco and outdoor living spaces to maximise your enjoyment of home this spring and summer.
Style & a splash of colour
An alfresco area is built to withstand all seasons and elements and it's important to extend the style of the home into your outdoor rooms to create cohesive and comfortable outdoor spaces. This time of year feels fresh so it's the perfect time to have a little more fun with the furnishings. Using vibrant and joyous colours throughout each of your outdoor spaces is one way to create a wonderful alfresco and outdoors area.
We also love styling which connects to your passions, we can't go past a coastal style using a coastal or beach house theme with soft furnishings in coastal tones and accessories which transport us to the beach. For those that love the land; a boho or country styled alfresco will create your very own outdoor oasis at home… the options are endless!
Fabulous furniture
If you're an avid entertainer whose events range from small gatherings to huge parties, you may want to consider outdoor furniture that can be easily shifted and changed around. But, before you go buying your new favourite pieces, it's important to consider how you like to entertain – casual sprawling events or more refined and formal?
Then think about the flow between your indoor and outdoor areas - where do people access and move through? Once you are clear on the spaces and how they are used, you can focus on finding the right pieces.
We love stacking chairs and collapsible or extendable tables as they offer different setup options and allow flexibility depending on how many people you are accommodating and the type of event. Adaption and flexibility is key to making the most of your outdoor spaces.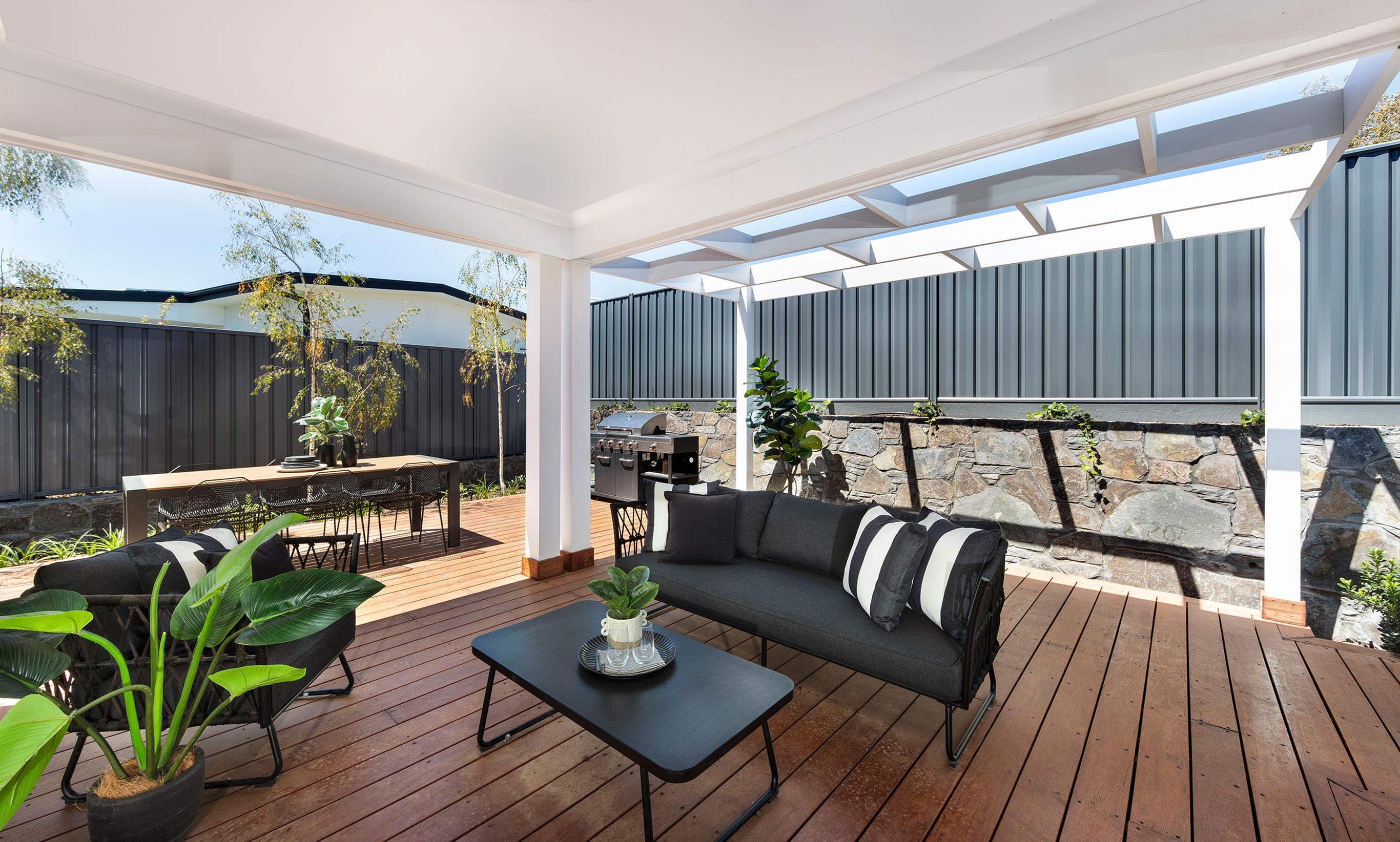 Create shade
Creating an outdoor room means you can have some control over the Tassie weather and it's impact on your plans for entertaining. That's why we love an alfresco to offer shade or protection from the elements so you can make the most of your space no matter what the season.
Depending on your aspect and location - adding an awning, shutters or block out blinds can be a great addition - as can privacy screens, with creeping plants or vines to add a little green to the areas.
Go green
Every alfresco space looks better with some greenery – it's a must! Think about the plants that suit your style and what space the plants will be featured in… on the table, next to the pillars or hanging… there are just so many options. Plus don't forget the style of pots can be just as important as the plants… so take some time to think about the look and feel you are wanting to create in your space.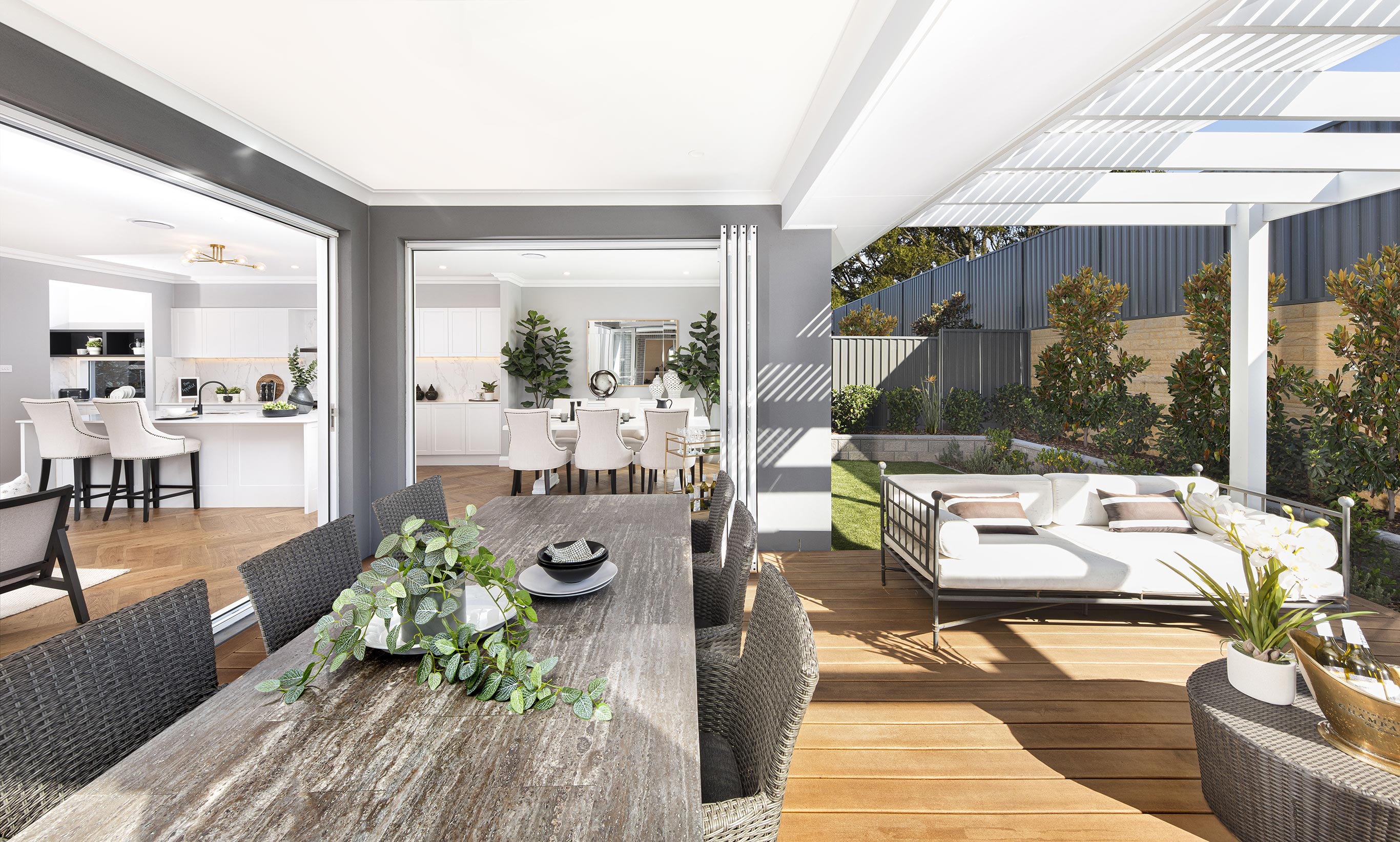 Make it easy
There's nothing more annoying than cleaning up after a wonderful evening of entertaining, so make your sure alfresco area is easy to clean. Choose outdoor furniture that is low-maintenance and weatherproof to ensure your outdoor entertaining area is always guest-ready. It's also important to consider the material of your floor too and make sure it's resistant to footprints and wine spills.
Lastly, you may want to add some stylish storage boxes to your outdoor furniture to you can keep your furnishings and accessories out of the elements when not in use.
We hope you enjoy transforming your outdoor areas and for more inspiration come visit our display homes at Kingston, Howrah and Youngtown to see three totally different alfresco and outdoor areas – all perfect entertaining through every Tassie season.