Congratulations to the winners of a brand new Vespa!
The Discovery Series from Wilson Homes unlocks the secrets to a refreshingly affordable way to live.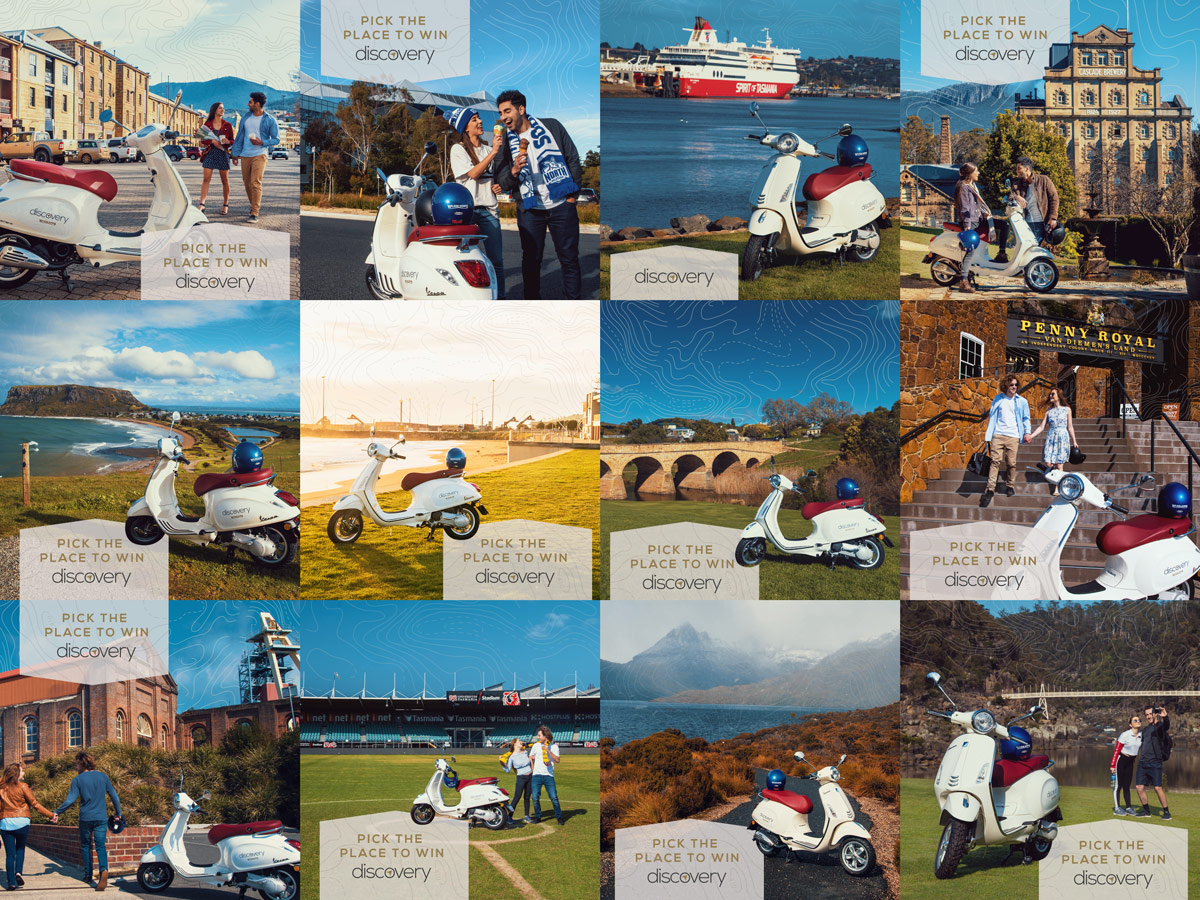 Celebrate the launch of our brand new series of 11 home designs offering both quality and affordability in perfect harmony. Join us on an adventure across the state as we share 12 photos on our Facebook page featuring the Vespa prize itself. Discover a collection of photographs beautifully capturing a combination of natural and man-made iconic locations, all synonomous to our home-state.
Put your dream lifestyle on the map and follow us over 3 weeks as we explore Tasmania with you, and our Vespa.
Competition details:
Launches 15th September & concludes 7th October 2018.
Steps to enter:
1) Entrant must 'like' the Wilson Homes Facebook page.
2) Entrant must 'like' all 12 of the Facebook competition posts.
3) Entrant must comment (accurately identify the location featured in each image) on all 12 of the Facebook competition posts.
Terms & Conditions:
'PICK A PLACE TO WIN Competition' starts 15 September 2018, 4.00pm and ends 7 October 2018, 11.59pm. Winner to be drawn [CP1] and announced via Wilson Homes Facebook and website by 5.00pm 10 October 2018. Prize includes 1 (one) Vespa Primavera 50 (white with beige seat, RRP $5,890.00), including 6 (six) months registration paid (no insurance will be provided by Wilson Homes). Wilson Homes reserves the right to withdraw or change competition details or terms and conditions at any time. Entries are limited to Australian residents only, residing in Tasmania and aged 18 years or older. Entrant must 'Like' the Wilson Homes Facebook page, 'Like' all 12 of the Facebook competition posts and comment (accurately identifying the location featured in each image) on all 12 of the Facebook competition posts by 7 October 2018, 11.59pm. The entrant warrants that he/she meets the entry requirements & accepts these terms & conditions. Wilson Homes reserves the right to disqualify any entrants or entries displaying any unlawful or improper conduct in the opinion of Wilson Homes, or if there has otherwise been a breach of the competition or Facebook terms & conditions. Wilson Homes and MJH Group staff and immediate family (husband/wife, children, parents, cousins, grandparents, aunties, and uncles) are excluded from entry into or from winning the competition. The Vespa prize must be collected from Spring Farm Display Home, 21 Eldridge Drive, Kingston by 5pm on the 10 January 2019 by a lawful method of transport (a trailer / valid riders licence if the Vespa is to be driven). This is an essential term. If it is not collected by 5pm on 10 January 2019 the "winner" forfeits all right to claim the prize and a new winner will be selected by Wilson Homes. The winner agrees to allow Wilson Homes to take photographs of the Vespa prize being awarded for promotional purposes, assigns all copyright in those photos to Wilson Homes and provides an irrevocable licence to Wilson Homes to use such photographs and the winner's name. The winner warrants to Wilson Homes that they will obtain any and all required insurances before operating the Vespa and indemnifies Wilson Homes for any damage arising from use or possession of the Vespa prize. This does not affect any statutory warranties owed by the manufacturer of the Vespa to the winner.  Wilson Homes Tasmania Pty Ltd ABN 96 126 636 897 BLN: 669843674